Explore Our Menu Favorites
Dolmas
Combination of rice, parsley, mint, and a twist of lemon
juice wrapped in grapevine leaves
Philly Cheesesteak Pita
Original steak and provolone cheese, grilled onions and peppers in a pita
Italian Beef Sandwich
Original Vienna roast beef. Served with a side of hot Au-Ju gravy and hot giardiniera peppers.
Chicken Plate
Marinated and charbroiled chicken breast served with rice, pita bread, tomatoes, onions, and tzatziki sauce
Meet The People Who Make Your Awesome Food
Chicago Gyro's was established in 2005. It all started in Chicago as the authentic taste of Gyros inspired us to deliver the same traditional taste of Gyros of Chicago. Gyros were first introduced in Chicago in 1968, hence our name "Chicago Gyros".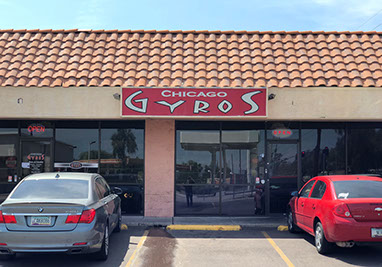 What The Customers Are Saying About Us
I've been a customer here for 15 years. Best Gyros in Town. Always full of fresh quality meat and crispy fry's. Can't go wrong!

Salem S.


8/31/2023

Gyros are really good this place is well maintained thanks for making my food guys . If your looking to get some good food in phx area this is probably... read more the place

Louie Y.


6/11/2023

Delicious perfect customer service everything was delicious .delicious Chicago gyro I'm born and raised from Chicago I'm saying it's a go respect to the lady at the counter taking orders... read more very polite and respectful respect to everyone in Chicago gyros definitely representing Chicago right

durwin h.


5/24/2023

Went here today with my daughter after many years not visiting.  It was as good as ever.  Pita bread on point, gyro meat on point and the sauce is thick.... read more  Best gyro in Phoenix

Daniel R.


10/13/2023

Excellent gyros. Wife loved her dish. Hard to find these types of restaurants in the East valley. We were Warmly greeted. Dining room was empty but there were plenty of... read more people doing door dash. We are from the east valley so if we travel to the west valley we have a great spot to stop at.

Bruce H.


8/18/2023

Small friendly and willing to work with me and my allergies. Food is always excellent. Service is quick.

Melody F.


3/27/2023

When I tell you these guys make REAL gyros and tzatziki sauce-- believe me!  I wanted to make sure I tried this place after meeting the owner.  A super kind,... read more real Chicagoan.  The food is perfect, the decor will take you right to that downtown feeling you miss, and the employees are very sweet.  10/10 will go again and take any out of town visitors!

Stephanie A.


3/08/2023

I've been going to this place since they opened.  Love the authentic Greek food. The owners are very nice and professional.  The restaurant is clean and inviting.  Highly recommend.

Maureen P.


8/01/2023

This is a cozy well loved neighborhood restaurant. The food is kind of pricey (I think- maybe it is that way everywhere). For 2 dinner plates , each with a... read more salad, it came to $38.00.
It's just chicken and rice with a bit of flatbread, so why is it so much?  Oh well, I had just won $100 on a Scratch ticket so it was okay.  But I couldn't afford that price otherwise.
Which is too bad as I could eat this every day! It's absolutely delicious! My picky teenage son loved it too, and that's amazing.

Janet M.


2/27/2023

This neighborhood restaurant has a cozy, well-loved ambiance. The food, however, might be considered a bit pricey, but that's possibly the case everywhere. When we ordered two dinner plates, each... read more including a salad, the total came to $38.00.

The dishes mainly consist of chicken, rice, and a bit of flatbread, so the cost does make you wonder. Nonetheless, I happened to have just won $100 on a Scratch ticket, so it felt manageable. Otherwise, it might have been a bit steep for me.

It's a shame because I could easily enjoy this meal every day; it's absolutely delicious! Even my picky teenage son loved it, which is quite remarkable.

Steven B.


9/22/2023

We tried this place tonight and when I tell you it did not disappoint! It was a great experience from the beginning! The sweet woman working the register was so... read more kind to us and just so welcoming! She was even kind to a call in order whom she very clearly asked to hold so she could finish our order and the person on the phone didn't listen and just began to ask question and order.  We got the chicken shwarma pita with garlic sauce and the gyro and they were the best we have had locally! We have tried a couple around the area and this is absolutely now our #1

We would highly recommend this place!

Sarah R.


2/20/2023